Electric MTB Bike
BOLT MTB
The new Bolt series is the answer to the needs of cyclists who expect more. The offer includes three models with sports characteristics: two trekking models and one MTB. All of them are connected by an innovative battery assembly system. The primary battery, following the latest trends, is built into the frame and at the same time provides very easy access. The additional battery can be mounted on the frame in the mounting holes adapted to this. Thanks to this, you have twice the range. Bolt is the perfect companion for your cycling adventure. It will always give you more … more range, more experience, more possibilities.
Engine
250 W / 900 W / 110 Nm / mid / Ananda M100
Battery
14.5 Ah / 522 Wh / 36 V / Li-ion / Panasonic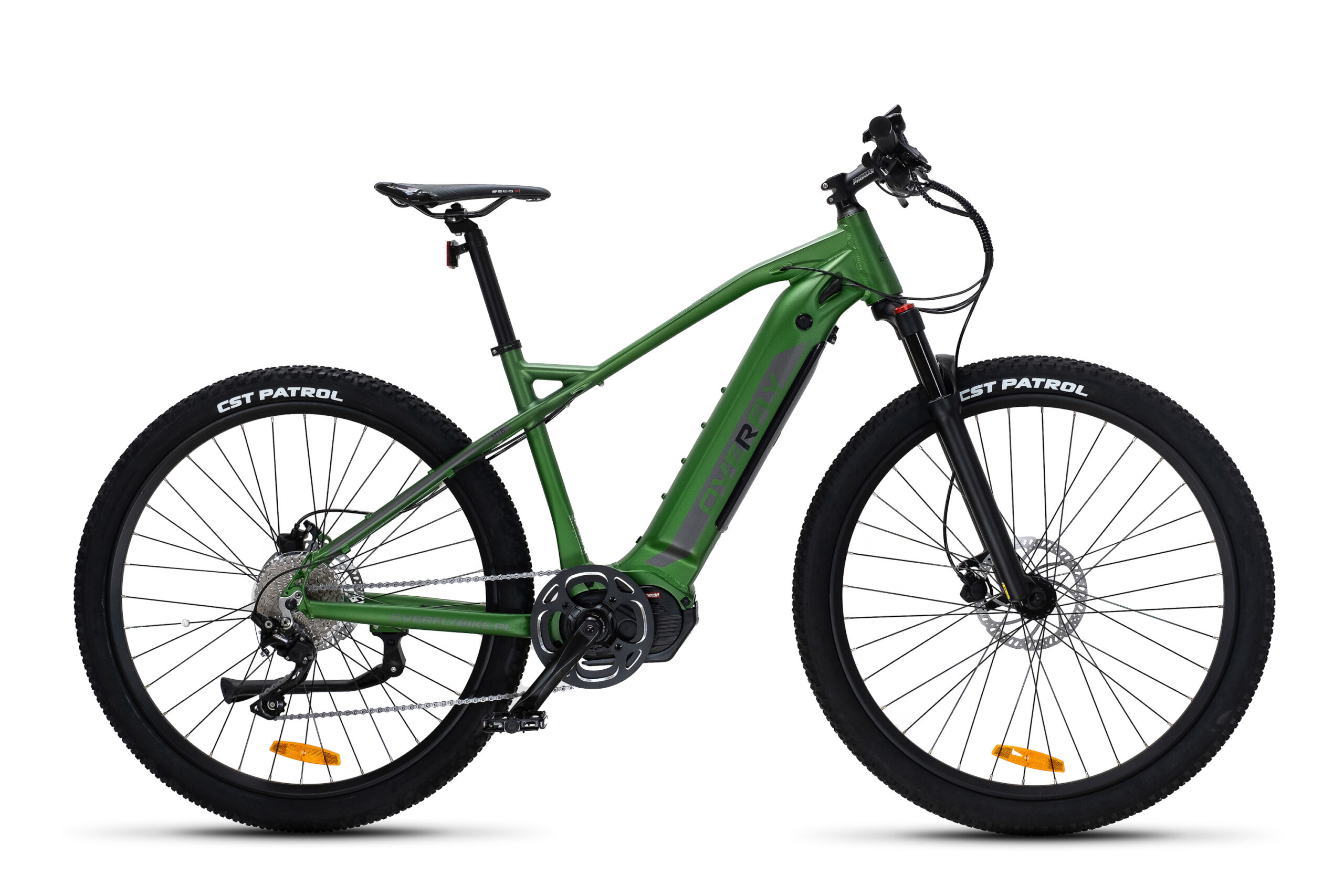 FEEL THE POWER OF ADDITIONAL BATTERY!
27.5 inch wheels. 19.5″ frame. The electric bike has 5 levels of assistance. The maximum assistance speed is 40 km/h, limited to 25 km/h in accordance with EU standard EN 15194. It has a "walk" mode of speed up to 6 km/h. The LCD display shows parameters such as the current speed, battery level, distance traveled, total distance traveled. The bicycle's battery located in the frame improves the balance of the bicycle. It has the option of installing an additional battery on the frame with a capacity of 24.5 Ah. The wide 2.4 inch tires make the ride extremely comfortable. The Ananda central motor has an amazing torque of 110 Nm! Lighting powered by separate batteries. There is a variant with a larger 17.5 Ah battery. Charger included.
Wheels
29" x 2.25 CST Patrol
Max. speed
40 km/h limited to 25 km/h in accordance with EU EN 15194 norm
Produkt dostępny od
:
w sklepach stacjonarnych
EQUIPMENT
| | |
| --- | --- |
| Frame / size | Alumunium 6061 / 19" |
| Rims | Aluminium / reinforced |
| Tyres | 29" x 2.25 CST Patrol |
| Suspension | Amortyzowany Mozo Peak |
| Front brake | Hydraulic Tektro M275 |
| Rear brake | Hydraulic Tektro M275 |
| Derailleurs | Shimano Altus M2000 9 biegów |
| Shifter | Shimano Altus M2000 |
| Handlebar | Aluminium / flat |
| leg | Aluminum / quickly disassemblable |
| Mudguaeds | No |
| Brake lever | Aluminium Tektro |
| On / Off sensor | No |
| Chain | KMC X9 |
| Saddle | Selle Royal SETA |
| Seat post | Aluminiowa |
| Pedals | Aluminium |
| Lighting | Reflective front / rear |
ELECTRIC SYSTEM
| | |
| --- | --- |
| Silnik | centralny / bezszczotkowy / Ananda M100 |
| Moc nominalna | 250 W |
| Moc maksymalna | 900 W |
| Moment obrotowy | 110 Nm |
| Bateria | 14.5 Ah / 522 Wh / 36 V / Li-ion / Panasonic |
| Ładowarka | Inteligentna AC 100V - 230V |
| Wspomaganie | 1:1 inteligentne wspomaganie pedałów |
| Czujnik obrtów / PAS | Tak |
| Kontroler | Inteligentny sterownik - ochrona przed przeciążeniem i niskim napięciem |
| Wyświetlacz | Overfly model SW-LCD |
Derailleurd
| | |
| --- | --- |
| Max. speed | 40 km/h limited to 25 km/h in accordance with EU EN 15194 norm |
| "Walk" mode | 6 km/h |
| Riding range | 90-100 km with power assistnace |
| Max. load | 100 kg |