Electric City Bike
Grace 26
Grace is a beautiful and original electric bike. It is dedicated to women of all ages, with different physical abilities, who like beautiful and universal things. Elegant style and a low frame, combined with a great range and a short charging time, make this e-bike a dream means of transport in the city.
Engine
250 W / 500 W / 45 Nm / rear / Shengyi
Battery
10.5 Ah / 378 Wh / 36 V / Li-ion / Samsung
Range
60-70 km with power assistance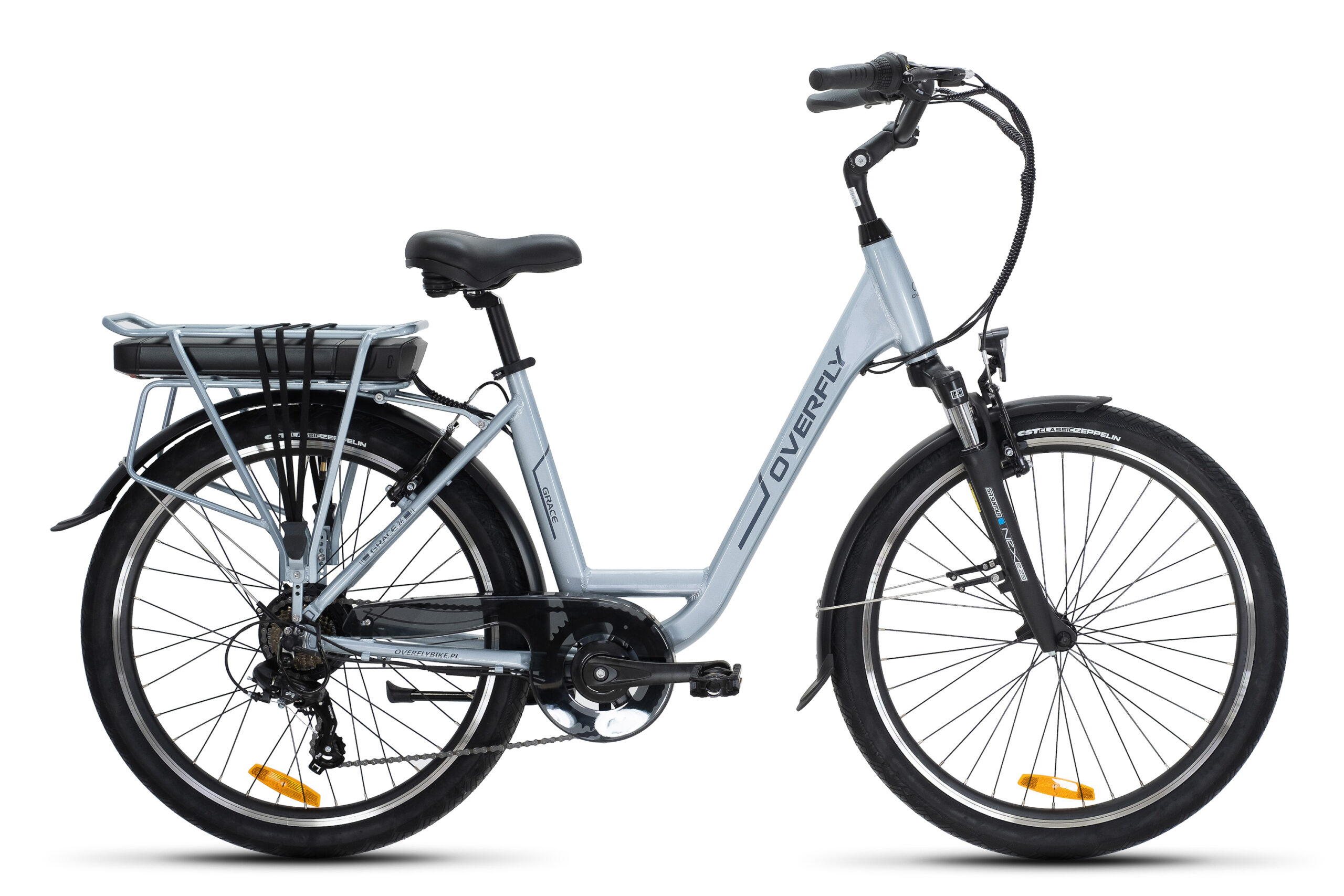 ELECTRIC CITY BIKE
26-inch wheels. 19″ frame. The folding electric fat bike has 5 levels of assistance. The maximum assistance speed is 35 km/h, limited to 25 km/h in accordance with EU standard EN 15194. It has a "walk" mode of speed of up to 6 km/h. The LCD display shows parameters such as the current speed, battery level, distance traveled, total distance traveled. The bicycle's battery located in the frame improves the balance of the bicycle. The Shengyi rear engine has a high torque of 45 Nm. Lighting powered
Wheels
26" x 2.0 CST Zeppelin
Max. speed
35 km/h limited to 25 km/h in accordance with EU EN 15194 norm
Produkt dostępny od
:
Już dostępny!
EQUIPMENT
| | |
| --- | --- |
| Frame / size | Aluminium 6061 / 18" |
| Tyres | 26" x 1.9 |
| Rims | Power Circle / aluminium / reinforced |
| Suspension | Rigid steel fork |
| Front break | Tektro V-brake, 63mm pads |
| Rear break | Tektro V-brake, 63mm pads |
| Derailleurs | Manetka: Shimano Revoshift, Tył: Shimano Tourney 7 biegów |
| Handlebar | Aluminium / city style |
| Leg | Aluminium |
| Mudguards | Plastic |
| Dźwignia hamulca | Aluminiowa |
| On / off sensor | Yes |
| Chain | KMC Z8 |
| Saddle | Selle Royal Moody |
| Seat post | Aluminiowa |
| Pedals | Plastic |
| Lighting | Spannig led front / rear |
ELECTRIC SYSTEM
| | |
| --- | --- |
| Silnik | tylny / bezszczotkowy / Shengyi |
| Moc nominalna | 250 W |
| Moc maksymalna | 500 W |
| Moment obrotowy | 45 Nm |
| Bateria | 10.5 Ah / 378 Wh / 36 V / Li-ion / Samsung |
| Ładowarka | Inteligentna AC 100V -230V |
| PAS/Wspomaganie | 1:1 inteligentne wspomaganie pedałów |
| Kontroler | Inteligentny sterownik – ochrona przed przeciążeniem i niskim napięciem |
| Wyświetlacz | Overfly LCD model 529 |
Derailleurd
| | |
| --- | --- |
| Max. speed | 35 km/h limited to 25 km/h in accordance with EU EN 15194 norm |
| Ridding range | 60-70 km with power assistance |
| Charging time | 4-6 h |
| Max. load | 100 kg |
| "Walk" assistance | 6 km/h |
Geometry
| | |
| --- | --- |
| H | 155 cm - 175 cm |
| TT | 657.8 mm |
| ST | 460 mm |
| CS | 438.5 mm |
| WB | 1126 mm |
| HT | 180 mm |
| SA | 73° |
| HA | 70° |