Hummer
Folding electric fat bike with an attractive, dynamic design. The modernly designed frame hides a lithium-ion battery inside. The extra-wide 4-inch tires provide adequate traction even in a snowdrift and at a sandy beach, as well as comfort and grip in a bumpy terrain. The height-adjustable steering wheel and Selle Royal saddle will make our journeys comfortable and enjoyable. Thanks to the electric motor assistance, we will not feel tired even during longer trips. The Hummer e-bike looks massive but it will fit into any larger trunk so you can take it wherever you want and enjoy its outstanding capabilities.
Engine
250 W / 550 W / 45 Nm / rear / Shengyi
Battery
11.6 Ah / 418 Wh / 36 V / Li-ion / Samsung
Range
60-70 km with power assistance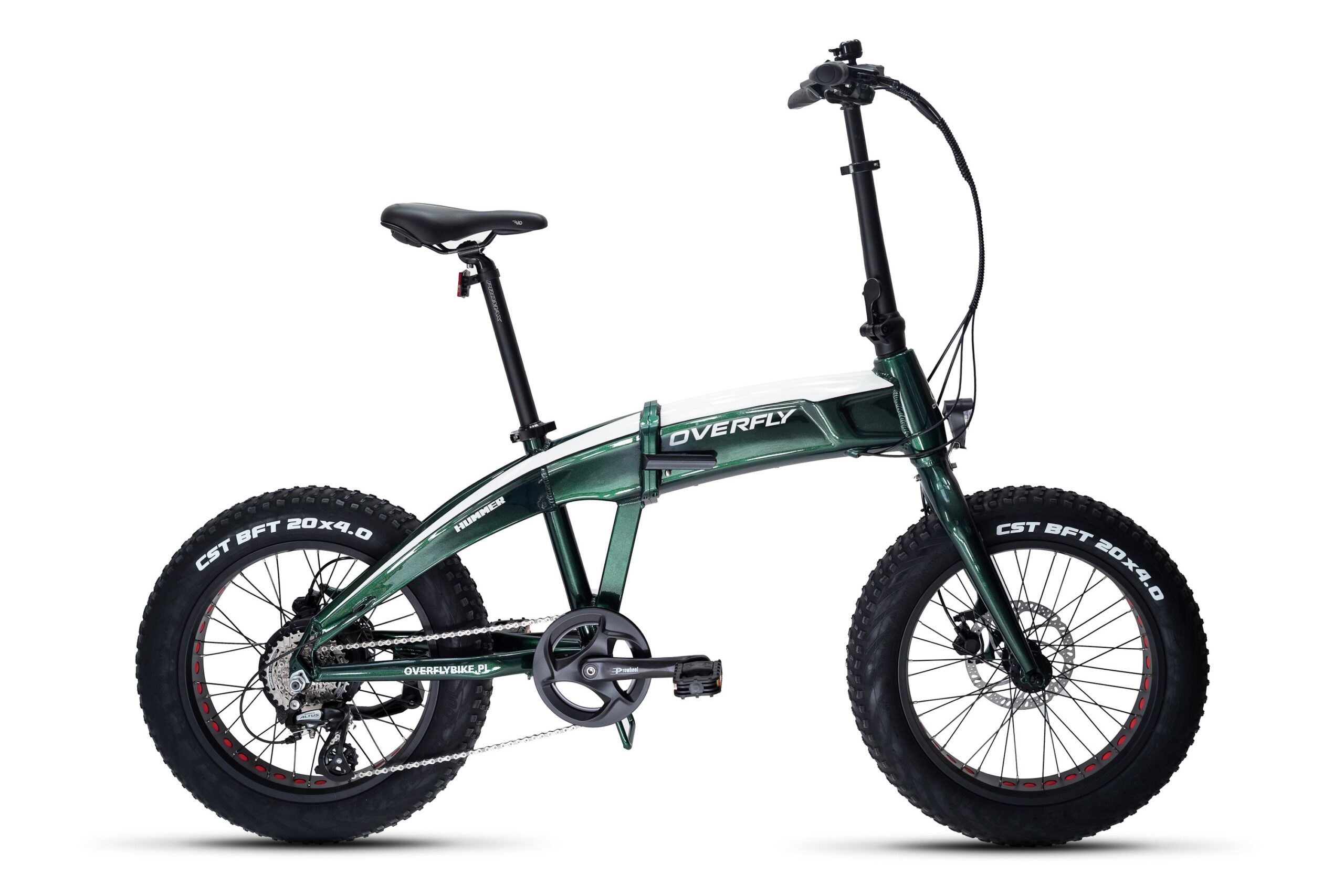 FOLDING FAT BIKE
20-inch wheels. 15″ frame. The folding electric fat bike has 5 levels of assistance. The maximum assistance speed is 35 km/h, limited to 25 km/h in accordance with EU standard EN 15194. It has a "walk" mode of speed of up to 6 km/h. The LCD display shows parameters such as the current speed, battery level, distance traveled, total distance traveled. The bicycle's battery located in the frame improves the balance of the bicycle. Extremely wide 4.0 inch tires ensure perfect handling even on sand or snow. The Shengyi rear engine has a high torque of 45 Nm. Lighting powered by separate batteries. There is a variant with a larger 14 Ah battery. Charger included.
Max. speed
35 km/h limited to 25 km/h in accordance with UE EN 15194 norm
Produkt dostępny od
:
w sklepach stacjonarnych
EQUIPMENT
| | |
| --- | --- |
| Frame / size | Aluminium 6061 / folding / 13.5" |
| Tyres | 20" x 4.0 CST BFT |
| Rims | Aluminium / reinforced |
| Suspension | Rigid aluminium fork |
| Front break | Mechanical disc break Tektro Aries |
| Rear break | Mechanical disc break Tektro Aries |
| Derailleurs | Shimano Altus M310 8 biegów |
| Handlebar | Aluminium |
| Leg | Aluminium |
| Mudguards | No |
| Break lever | Aluminium with on / off sensor |
| Chain | KMC X8 |
| Saddle | Selle Royal Rio |
| Seat post | Aluminium |
| Pedals | Plastic |
| Lighting | Spanning LED front |
ELECTRIC SYSTEM
| | |
| --- | --- |
| Silnik | tylny / bezszczotkowy / Shengyi |
| Moc nominalna | 250 W |
| Moc maksymalna | 550 W |
| Moment obrotowy | 45 Nm |
| Bateria | 11.6 Ah / 418 Wh / 36 V / Li-ion / Samsung |
| Ładowarka | Inteligentna AC 100V - 230V |
| Wspomaganie | 1:1 inteligentne wspomaganie pedałów |
| Czujnik obrotów / PAS | Tak |
| Kontroler | Inteligentny sterownik - ochrona przed przeciążeniem i niskim napięciem |
| Wyświetlacz | Overfly LCD model 529 |
Derailleurd
| | |
| --- | --- |
| Assistance | 5 +1 levels |
| Max. speed | 35 km/h limited to 25 km/h in accordance with UE EN 15194 norm |
| "Walk mode" | 6 km/h |
| Ridding range | 60-70 km with power assistance |
| Charging time | 4-6 h |
| Max load | 100 kg |
Geometry
| | |
| --- | --- |
| H | 160 cm - 190 cm |
| TT | 624 mm |
| ST | 380 mm |
| CS | 456 mm |
| WB | 1147 mm |
| SA | 75.4° |
| HA | 72° |