Electric Trekking Bike
Warrior
Another edition of the legendary model that has been in our offer since the beginning of our activity. Formerly the flagship model, today it is an interesting proposition from the middle of the offer, with a very good value for money. Many years of experience in the sale and use of this model allowed us to fine-tune the new Warrior. Light construction and sporty geometry make the bike agile and dynamic, which translates into pure riding pleasure. A practical rack with a load capacity of up to 25 kg will be perfect for everyday use and longer weekend trips.
Engine
250 W / 550 W / 45 Nm / rear / Shengyi
Battery
14.5 Ah / 522 Wh / 36 V / Li-ion / Panasonic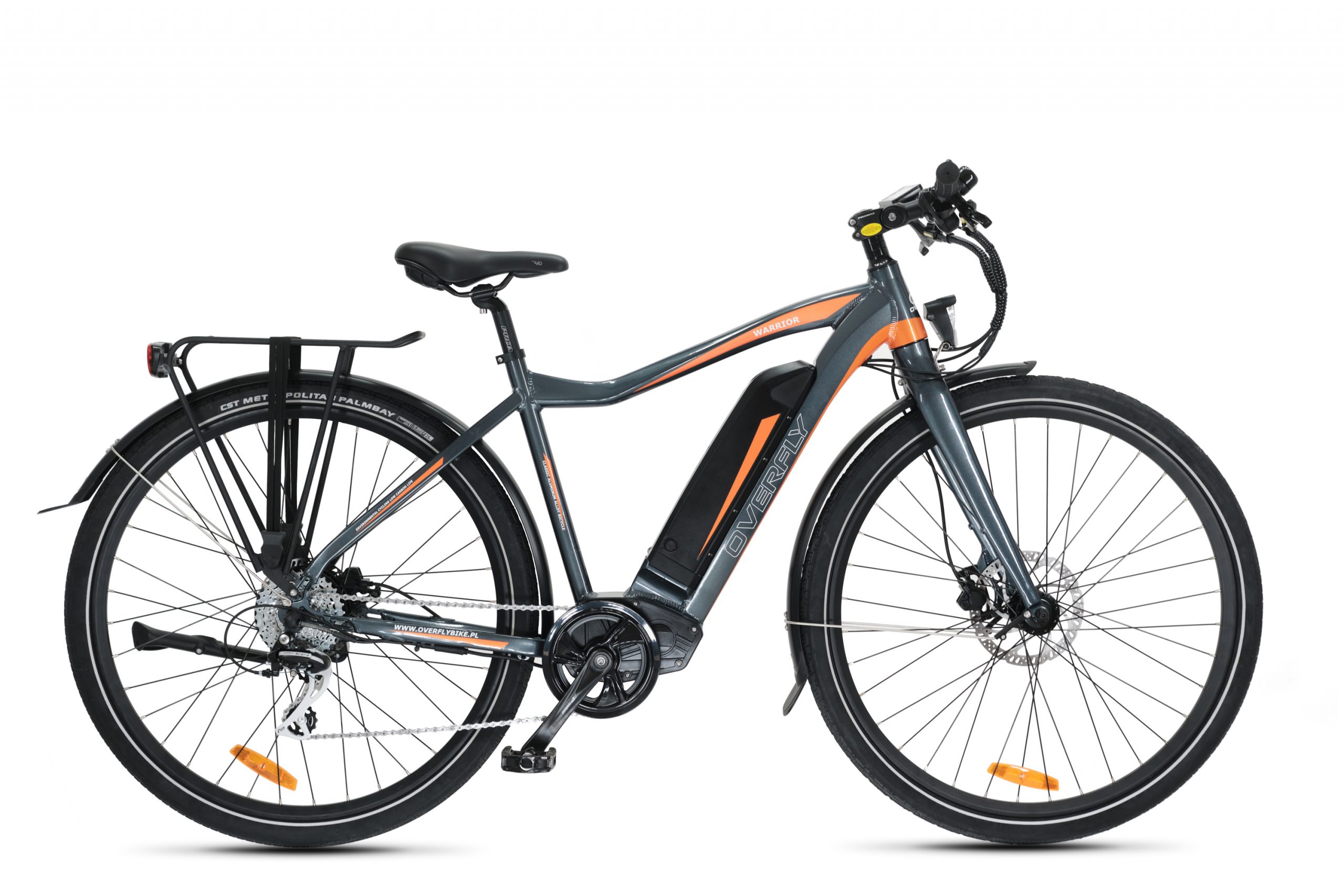 WARRIOR ALWAYS IN SHAPE
28″ inch wheels. 19″ frame. The bike has 5 levels of assistance. The maximum assistance speed is 35 km/h, limited to 25 km/h in accordance with EU standard EN 15194. It has a "walk" mode of speed up to 6 km/h. The LCD display shows parameters such as the current speed, battery level, distance traveled, total distance traveled. The battery placed on the frame improves the balance of the bike. Wide tires of 2.0 inches make the ride extremely comfortable. The Shengyi rear engine has a high torque of 45 Nm. Lighting powered by separate batteries. There is a variant with a larger 17.5 Ah battery. Charger included.
Wheels
28" x 2.0 CST Palmbay
Max. speed
25 km/h with power assistance
Produkt dostępny od
:
Już dostępny!
EQUIPMENT
| | |
| --- | --- |
| Frame / size | Aluminium 6061 / 19" |
| Tyres | 28" x 2.0 CST Palmbay |
| Rims | Aluminium / reinforced |
| Suspension | Rigid steel fork |
| Front reak | Hydraulic Tektro E350 |
| Rear break | Hydraulic Tektro E350 |
| Derailleurs | Shimano Acera M360 8 biegów |
| Shifter | Shimano M315 |
| Handlebar | Aluminium / flat |
| Leg | Aluminum / quickly disassemblable |
| Mudguards | Plastic |
| Dźwignia hamulca | Aluminiowa Tektro |
| Czujnik on/off | Tak |
| Chain | KMC X8 EPT |
| Saddle | Selle Royal Rio |
| Seat post | Aluminium |
| Pedals | Wellgo aluminium |
| Lighting | Spanning led front / rear |
ELECTRIC SYSTEM
| | |
| --- | --- |
| Silnik | tylny / bezszczotkowy / Shengyi |
| Moment obrotowy | 45 Nm |
| Moc nominalna | 250 W |
| Moc maksymalna | 550 W |
| Bateria | 14.5 Ah / 520 Wh / 36 V / Li-ion / Panasonic |
| Ładowarka | Inteligentna AC 100V - 230V |
| Czujnik obrotów/PAS | Tak |
| Kontroler | Inteligentny sterownik – ochrona przed przeciążeniem i niskim napięciem |
| Wyświetlacz | Overfly LCD model 529 |
Derailleurd
| | |
| --- | --- |
| Max. speed | 35 km/h limited to 25 km/h in accordance with EU EN 15194 norm |
| "Walk" mode | 6 km/h |
| Riding range | 90-100 km with power assistance |
| Charging time | 4-6 h |
| Max. load | 100 kg |
Geometry
| | |
| --- | --- |
| H | 165 cm - 190 cm |
| TT | 620 mm |
| ST | 480 mm |
| CS | 465 mm |
| WB | 1140 mm |
| HT | 120 mm |
| SA | 73.5° |
| HA | 71° |